First Residents' Meeting A Success
29 July 2022
There was a great turnout for the first Earlsgate Residents' meeting on Monday 25th July, led by Kingdom's Tenant Participation Team.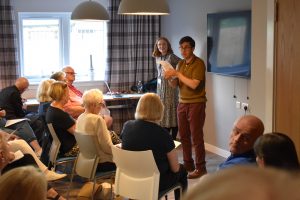 With an Agenda directed by the residents themselves, the meeting kickstarted the co-housing approach that is a unique feature at Earlsgate.
As well as lots of practical discussions about the new development the residents spent lots of time talking about the benefits of co-housing and the new community they live in. Supporting neighbours, looking out for each other, and spending time socialising together in the communal areas were all identified as priorities. Plans were made for future events to encourage more interaction between residents including games nights and coffee mornings.
One of the unique attributes of Earlsgate is the inclusion of a guest suite and lots of positive discussions took place about how the residents could best manage this.
Successful co-housing relies on resident participation and the attendees at the meeting were keen to hold future meetings as they develop their own residents' group, supported by the team at Kingdom.
Recent Posts
First Residents' Meeting A Success
Spring Open Days
Kingdom's Co-Housing Community Explained